The Search for Julia Cassidy
Julia Cassidy is my maternal great-grandmother; despite the relatively close relationship, neither I (nor my mother, either) know much about her. I'd very much like to document her birth, marriage, and ancestry. If for some reason you've hit this page via a search that connects to someone here, please send me email, at :

What's on this page:
What We Know
A Possible Trace
Some Conjectures, Notes, and Minor Points
Background on George F. Hall
DNA fragment
Other Evidence
Only known picture of Julia Cassidy,
taken "Somewhere Out West"
Here are the limited facts we know about her:
Julia married George Fortner Hall (who might have been George Faulkner Hall, but that's not as probable), probably around 1890, in New York City.

They had one daughter, Sarah Martha Hall, born on November 30, 1894.

According to Sarah Martha Hall's birth certificate, Julia Cassidy was born in New York City and was 27 years old at the time Sarah was born (the handwriting is hard to read - it might be 22 years old). This would mean that her birthdate was in 1867 or 1872. George Hall was 28 years old, so Julia's age of 27 seems a better fit.

Both George F. Hall and Julia were on the stage, both in New York City and traveling. There is a George F. Hall listed as performing in a show from April 4, 1892 to April 9, 1892, at the People's Theatre, "A Midnight Alarm", by A. Y. Pearson. ("This from Annals of the New York Stage 1871-1894")

In 1894, when Sarah Martha was born, Julia and George F. Hall lived at 216 West 50th Street in Manhattan (this from the birth certificate). This is kind of a dump nowadays, although at one point the restaurant Beef-Steak Charlie's was there.

Julia died sometime after 1901. Family history has it that her last days were spent in Asbury Park , NJ , for her health. She was alive in 1901, when she had a watch inscribed: "From Julia and Tootsie to Poppa" (Tootsie being a nickname for Sarah Martha). From the memory of Sarah Martha Hall, as told to her daughter Anne Bentz, she died when Sarah Martha was "7 or 11", which would mean 1901 or 1905. 1905 is probably the latest year in which she might have been alive.

Sarah Martha remembered playing with cousins, Julia's siblings' kids. Not clear on how many kids, or where this was (quite possibly NYC).

Julia and George bought a chicken farm in New Jersey to retire to, or at least live at - perhaps Julia's health was a problem, or maybe they thought that with a daughter it would be better than being in the city. They hated it. Sarah Martha said it was down a long sandy lane, so she was old enough to remember it.
The Census for New York for 1880 shows a Thomas Cassidy, age 36, with his wife Mary, age 40; both are from Ireland. They are living at #360 Cherry St. in Manhattan, not far from the Brooklyn Bridge. The children are:
James Cassidy, age 14 (born about 1866); works in a Tin Can factory.
Julia Cassidy, age 12 (born about 1867)
Elizabeth Cassidy, age 10 (born about 1870)
Thomas Cassidy, age 3 (born about 1877)
Julia's age here agrees nicely with the estimate above, based on Sarah Martha's birth certificate - but that, and the fact that I can't locate any other Julia Cassidy in New York at the time with the right age, is the only evidence that this is the right person. Having the address of Thomas and Mary Cassidy from the census, I located Cherry St. (not far from the Brooklyn Bridge ) and identified the nearby Catholic churches. I received two Certificates of Baptism:
from St. Mary's Church, 440 Grand St. , NY 10002 – one for Thomas Cassidy, son of Thomas Cassidy and Mary O'Hara, b. July 27 1876 , baptized August 6th 1876 by the Rev. Jno. A. Gleeson, sponsors being Bernard McBridge and Elizabeth Holey,
and
from St. Rose's Church, 34 Cannon St. ,one for Marian Cassidy, child of Thomas Cassidy and Maria O'Hara, b. May 25, 1873 , baptized June 1st, 1873 , by the Rev. J.F. Mee, sponsors being Bernardius Cassidy and Margaritta Farrell.
These are quite possibly those of this Julia's siblings – however there is no record of her. "Bernardius Cassidy" seems like a name unique enough to be traceable. Note that this Marian doesn't appear in the census 7 years later.
It seems that George Hall's family didn't have much contact with Julia or her family, possibly because they were Irish, she was an actress, and possibly because of her religion.
Sarah Martha spent time in a Catholic School until Julia died, when she was sent to live with her aunts in Baltimore . It's quite possible that Julia was Catholic, though George Hall wasn't. We have searched Catholic records in and around New York and Asbury Park, but have found no mention of Julia.
Important Note On Dates: According to Sarah Martha's birth certificate, Julia was 27 when Sarah Martha was born on November 30, 1894 . This doesn't necessarily mean that Julia was born in the year 1894 - 27 = 1867. For example, if Julia were born on December 1, 1866 , then she'd not quite have reached her 28th birthday when her daughter was born; although she'd turn 28 in 2 days (on December 1, 1867 ) she still might say that she was 27. Technically her birthdate might be between November 31, 1866 and November 30, 1867 . This sloppiness about date arithmetic occurs relatively frequently in the information we have (e.g. "she died when I was 7 or 11"), so it's worth keeping in mind that an additional year in one direction or the other, depending upon the reference, is necessary in the searches.
For years Julia's maiden name was given as Julia Cassell, with an uncertain spelling. This information came from other relatives with vague memories (Lillie Beeler); the name might have been Cassel , Caselle, Kerselle, etc. Only in 5/13/1998 , when we retrieved Sarah Martha's full birth certificate, did we find her name listed as Cassidy. It's quite possible that that was her only name, or perhaps she used Cassell or some variant thereof as a stage name.
There are numerous records of Cassidys coming to New York, yet settling in Brooklyn . In 1867 when Julia was born, Brooklyn was not part of New York City. However, when her daughter Sarah Martha was born in 1894, it was part of New York, so it isn't clear what it means when her place of birth is given as "New York" . Did this mean that when she was born it was in New York (not Brooklyn ), or that in 1894 when Sarah Martha's birth certificate was made out that the place (Brooklyn) was in New York?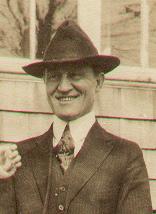 George F. Hall

George F. Hall was born in Philadelphia on September 23, 1866 , the son of Henry Robinson Hall and Sarah Ann Asay Metz (not clear if her last name was Asay or Metz, or the name was as given above). According to Henry's death certificate, he in turn was the son of Elisabeth A. Ross (born in Philadelphia ) and Daniel A. Hall (born near Philadelphia). Henry himself was born September 15, 1841 . Aside from George, there were other siblings:

Elizabeth Ann Hall, b. Feb 8, 1869
Daniel Augustus Hall, b. Sept. 26, 1869 , d. June 17, 1870
Mary W. Hall, b. Dec. 9, 1875 , d. July 29, 1930
Henry Robinson Hall, Jr., b. Oct. 14, 1877 , d. Aug. 2, 1963
Eleanor Asay Hall, b. Dec. 20, 1879 (or December 10, 1872 ), d. 1964
Josephine Garrison Hall, b. Dec. 24, 1879 , d. 1973
John "Jasper" Asay Hall, b. Dec. 24 1881 (or May 29, 1883 )
James Hall, b. May 19, 1883
Lillian Rainey Hall, b. Jan. 2, 1887 , d. 1978
William Asay Hall, d. July 22, 1871
(two twins who died early)

Sarah Ann is something of a mystery too. Reputedly from Snow Hill , MD , her last name may have been Asay or Metz , or perhaps she was born Asay and had a previous marriage to a Metz . Another research project, currently ongoing - her death certificate has been requested.

George worked with and became the manager for the actress May Robson.

George remarried after Julia died, to Mary MacDougal. George himself died on October 1, 1939, in Harrodsburg, KY. George F. Hall's obituary, from the Harrodsburg Herald, dated Oct. 6, 1939 :

George F. Hall, 73, died at Sunday afternoon, October 1, 1939 , at the A.D. Price Memorial Hospital here from a heart attack.

A native of Philadelphia , PA, he was the son of Henry R. and Sara Ann Asay Hall. He is survived by his wife, Mrs. Mary Hall, Harrodsburg, one daughter, Mrs. George C. Siebrecht, Chappaqua , N.Y.; a brother, Harry R. Hall, Baltimore, Maryland, and a sister, Mrs. Frank Beeler, Baltimore, Maryland.

For a number of years he was business manager for the stage actress May Robson and traveled all over the

United States and Europe in that capacity. Later he was in business with his brother in New York and about 20 years ago moved to Florida where he entered the tea room business in Tallahassee, and five years ago moved to Miami, Florida and operated a tea room near the beach. Two years ago he and Mrs. Hall came to Harrodsburg and since that time he has been proprietor of the Hotel Harrod.

His body remained at the funeral home of Bruner and Sims until Tuesday afternoon at when Mrs. Hall and other members of the family left to accompany it to the home of his sister, Mrs. Frank Beeler, in Baltimore, Maryland, where funeral services were held Thursday afternoon. Burial was in the Baltimore cemetery.

George had remarried, and no mention is made here of his first wife, Julia.
DNA Fragment
I recently had my mitochondrial DNA analyzed; this one inherits only from one's mother, so mine should be identical to Julia Cassidy's. I didn't do this as part of the search for Julia; rather, I'd read the book "The Seven Daughters of Eve" by Bryan Sykes, and thought it would be interesting to find my maternal clan. A group known as Oxford Ancestors in England does this analysis; it isn't particularly cheap, but I think in the long run this sort of thing will become indispensable in genealogy. You may find an overview of the significance of mitochondrial DNA here.
It turns out I'm of clan "Jasmine", about 10,000 years ago. The relevant DNA sequence, as provided on the Oxford Ancestors (the coloring showing the relevant distinctive bases - this is haplogroup J, and the red changes are at positions 16069 and 16126) :
I've re-entered it (I hope without typos) as text in the unlikely event that anyone is trying to do a search on some fragment of this; however, if you do go through Oxford Ancestors, they allow on-line searching of their data for matches, which is probably the simplest way.
ATTCTAATTT AAACTATTCT CTGTTCTTTC ATGGGGAAGC AGATTTGGGT ACCACCCAAG TATTGACTTA CCCATCAACA ACCGCTATCT ATTTCGTACA TTACTGCCAG CCACCATGAA TATTGCACGG TACCATAAAT ACTTGACCAC CTGTAGTACA TAAAAACCCA ATCCACATCA AAACCCCCTC CCCATGCTTA CAAGCAAGTA CAGCAATCAA CCCTCAACTA TCACACATCA ACTGCAACTC CAAAGCCACC CCTCACCCAC TAGGATACCA ACAAACCTAC CCACCCTTAA CAGTACATAG TACATAAAGC CATTTACCGT ACATAGCACA TTACAGTCAA ATCCCTTCTC GTCCCCATGG ATGACCCCCC TCAGATAGGG GTCCCTTGAC
So Julia Cassidy would have had these same two mitochondrial DNA mutations, as would her mother, whom I believe (best guess at this point) was Mary O'Hara of Ireland.
I have yet to locate any solid trace of Julia, after going through census records, NY City municipal records, etc. There were something like 5 Irish newspapers published in New York City around the time of her birth, so possibly there is mention of her there.
Of course the other item needed to be documented is her marriage to George F. Hall. It occurred to me that he might have taken Julia to Philadelphia, where most of his family was, to get married - a search of marriage records there turned up nothing. I haven't searched Catholic records in Philadelphia yet, though that seems something of a long shot.
So, at this point, the only additional evidence to what has been presented above is negative.
---
This page maintained by Bryan Bentz
Last updated October 27, 2004